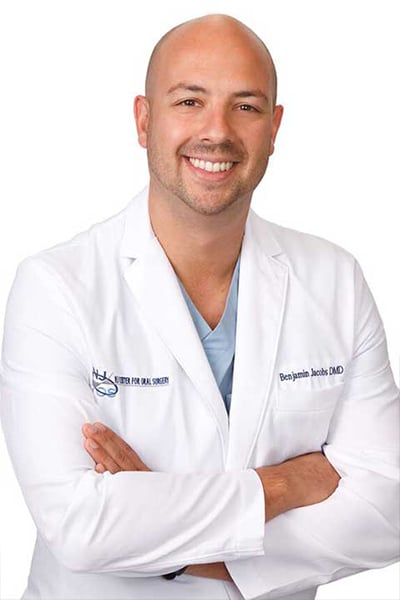 ---
NJ Spec. No. 6073
---
General Anesthesia Permit No. 22DA00645
---
Glassman Dental Care is pleased to have Dr. Benjamin Jacobs, on our team. He is a skilled and experienced board-certified dental implant surgeon and cosmetic dentist in NYC. With Dr. Jacobs' expertise, we are now able to offer our NYC patients surgical services in addition to our exceptional restorative dentistry, including the extraction of irreparably decayed and/or damaged teeth, the extraction of wisdom teeth, bone grafting and the placement and restoration of dental implants.
---
Education and Training
---
Dr. Jacobs hails from Mountainside in New Jersey, where he studied his Bachelor of Science degree (majoring in Biology) at Lafayette College. During this time, Dr. Jacobs played a central role in a research project that would go on to become published in the Journal of Neurobiology. Subsequent to graduation, Dr. Jacobs earned his Doctor of Medical Dentistry (DMD) from Rutgers University. Following this prestigious qualification, Dr. Jacobs spent the next six years working for his Oral and Maxillofacial Surgery Internship, Oral and Maxillofacial Surgery Residency and a General Practice Residency certificates, all of which he completed at Manhattan's (NYC) St. Luke's Roosevelt Hospital. His training concluded with the honor of serving as Chief Resident between the years of 2010 and 2011.
NYC Dental Implants and Oral Surgeon: St. Luke's Roosevelt Trauma Training Dr. Jacob's experience at St. Luke's Roosevelt, which is a Level One Urban Trauma center in NYC, provided him with incredible opportunities to treat complex trauma patients. During this time, Dr. Jacobs received a wide range of training in Trauma surgery, Dental implant placement and restoration, General anesthesia, Bone grafting and augmentation, Temporomandibular joint (TMJ) surgery, Dentoalveolar surgery, Facial reconstruction, Full mouth reconstruction/oral rehabilitation, and Pathology.
Dr. Jacobs was selected to lecture at the Head and Neck Anatomy Course hosted by Columbia University Medical School in the fall/winter of 2010. Later that year, this NYC-based oral surgeon participated in a charity known as Operation Smile, which sent experienced dental healthcare professionals on a mission to South America where they would spend weeks treating patients with cleft palate and cleft lip deformities.
---
Outside the Office
---
Now a widely respected dental implant specialist in NYC, Dr. Jacobs is happily married to his wife Lyssa, a Columbia University School of Medicine physiatrist. They have a dog called Mattingly, which Dr. Jacobs enjoys taking for runs in Central Park. When he's not changing the smiles and lives of his NYC patients, Dr. Jacobs is a fan of cooking, watching the Yankees and Giants, snowboarding, and eating out in New York City.
---