Invisalign® on the Upper West Side
---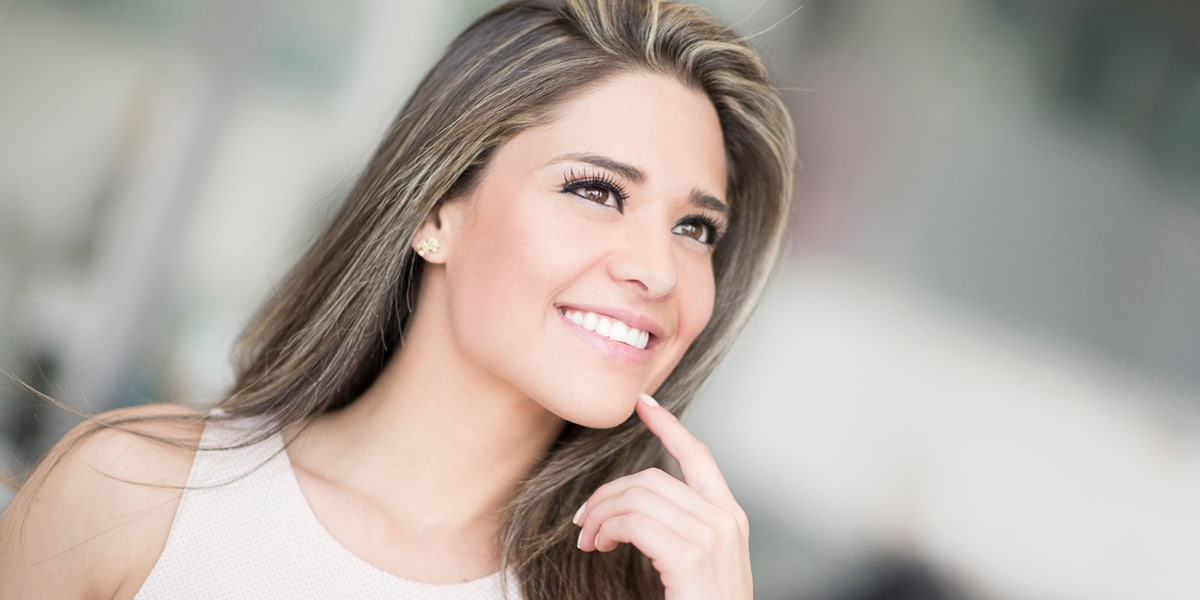 ---
Glassman Dental Care provides Invisalign on the Upper West Side of Manhattan. Call us today at 212-787-4860 to schedule an appointment.
---
Invisalign® takes a modern approach to straightening teeth.
---
Do you wish you had the opportunity to have your teeth straightened when you were a child? Do you think you're too old for orthodontic treatment? It's never too late to achieve the star-quality smile of your dreams with Glassman Dental Care, the leading provider of Invisalign® on the Upper West Side of NYC. Dr. Glassman has improved the smiles of over 800 people using Invisalign® and is nationally recognized for his expertise.
Invisalign® is a breakthrough in orthodontic care for people of all ages. Perhaps its hallmark feature is that Invisalign® treatment does not require you to wear traditional braces, thus saving you from years of having uncomfortable metallic brackets in your mouth. This state-of-the-art orthodontic system consists of a series of finely calibrated, translucent aligners that slowly guide teeth into the correct position, leaving your smile perfectly symmetrical and beautiful.
---
---
We are a Top Invisalign® Provider in NYC
---
Our very own Dr. Steven Glassman is a top Invisalign dentist in Manhattan and a national speaker for Align Technology. With Dr. Glassman's in-depth knowledge and experience working with the Invisalign system, you can have confidence knowing that you're receiving the best possible treatment.
---
The benefits of Invisalign® include:
---
Because aligners are comfortable and virtually invisible, you'll always feel confident in social and professional environments, something our discerning Upper West Side patients appreciate.

You will be able to enjoy your favorite foods and maintain good dental hygiene, as you can remove aligners for meals, brushing, and flossing.

Invisalign won't disrupt your schedule like traditional braces because you'll only need to visit us every 4-6 weeks so we can monitor the progress of your treatment.

Invisalign works just as well as metal braces, so once your treatment is complete, you'll have a beautiful smile without any of the hassles of braces!
---
Want to learn more about Invisalign® to find out if it is a good option for you?
---
Click on the links below for additional information about how Invisalign® treatment compares to traditional orthodontics, the value of investing in  Invisalign® for your smile, and to find the answers to any other questions you may have.
---
Invisalign® Frequently Asked Questions
---
What is Invisalign (invisible braces)?

We're pleased to offer Invisalign at our UWS dental practice! Invisalign is a fully customized orthodontic solution for achieving straight, beautiful teeth without the look and feel of metal braces. Using a series of virtually invisible removable aligners that fit comfortably over the teeth, Invisalign gently guides your teeth into their ideal position without anyone knowing you're undergoing orthodontic treatment.

Who is a candidate for Invisalign?

Invisalign is an excellent solution for most of the orthodontic problems that commonly affect both teenagers and adults, including malocclusions (incorrect bites), such as overbites and under-bites, poorly aligned teeth, crowding, and jaw problems. Clear aligners can be used to treat patients of any age who have either never had orthodontic treatment, or who have had braces in the past but whose teeth have shifted out of place over time.

The Invisalign system is incredibly versatile and has changed the lives and smiles of more than half a million people in the United States alone! It clearly works and almost anyone is a candidate.

How does Invisalign work?

The Invisalign process, step by step, is as follows:


---

You will come to our Upper West Side office for an appointment with Dr. Steven Glassman, during which he will create a unique treatment program designed to address your specific orthodontic or dental issues. This typically involves a session with our iTero® scanner, a sophisticated piece of machinery that performs a quick and painless scan of your mouth and teeth.
The digital images produced by this scan are then used to custom-fabricate your Invisalign aligners, which takes approximately 4 weeks. Once these have been prepared for you and sent back to our office, you can begin treatment! Invisalign works by slowly and gently guiding your teeth out of their over-crowded, asymmetrical, and/or misaligned positions and into better, straighter positions. Invisalign treatment utilizes 18 to 30 sets of aligners, and each set is worn for approximately two weeks.
Every consecutive set of aligners moves the teeth little by little, applying a greater controlled force to the teeth each time. Many patients ask how much teeth move with each Invisalign tray—every two weeks, as you switch out your aligners, your teeth will have moved approximately 1/10mm.
Throughout treatment, you will be asked to have regular appointments with Dr. Glassman so that he can ensure that your treatment is progressing as planned. Unlike braces that require frequent adjustment, Invisalign check-ups require no more than one visit every four to six weeks.

Am I too old for Invisalign?

Absolutely not! Studies show that not only have up to 80% of teenagers received orthodontic treatment, but also nearly 25% of adults aged 19 to 70+ have worn braces or other corrective appliances. The great news about Invisalign is that it creates a beautiful smile in a virtually invisible manner, never encumbering your social or professional life. In addition, straight and easy-to-clean teeth can help adults avoid gum disease and plaque accumulation, both of which have been linked to heart disease, stroke, and even diabetes.

How long will my Invisalign treatment take?

Every single patient is different, and hence the amount of time that you will be required to wear your aligners will vary. The good news is that Invisalign works far quicker than traditional braces, with a treatment time of between 9 and 15 months, at an average of 12 months. Dr. Glassman will discuss the specifics of your individual treatment timeline with you during your initial consultation and assessment.

How often do I have to wear my Invisalign aligners?

In order for treatment to progress at the prescribed rate, you must wear your Invisalign aligners all the time, aside from when you are eating or cleaning your teeth. In fact, we strongly recommend that you wear them for at least 22 hours per day. The more often you take your aligners out, the less impact they can have upon your teeth, thereby increasing your total treatment time.

Is Invisalign comfortable?

Absolutely!

If you have ever worn traditional braces, you will appreciate just how comfortable Invisalign aligners are. They are custom-fabricated to fit neatly over your teeth, without any sharp edges or metal brackets to irritate and ulcerate your cheeks and gums. In addition, the aligners can be removed so that you can keep your teeth clean.

The gentle pressure applied to your teeth by the aligners may cause them to become a little sensitive for the first few days of each new treatment stage. However, rest assured that this is positive proof that your teeth are being moved into the positions where they should have been all along!

Studies show that Invisalign is 90% less painful than traditional braces. Most describe it as "firm or snug" the first 2 days and then it becomes more comfortable after. This is especially true with the new SmartTrack material.

Are there any foods I should avoid during treatment?

Unlike with traditional orthodontic treatment, there are virtually no foods that you have to avoid with Invisalign, as you can simply take your aligners out before eating.

Chewing gum is typically discouraged since it can stick to your aligners, and smoking can cause them to become discolored. Drinking water while wearing aligners is acceptable, but coffee, tea, and red wine can cause staining, and all hot beverages can warp the aligners.

Dr. Glassman always encourages patients to brush their teeth and clean their aligners after each meal to maintain a good standard of oral hygiene. Because immediate brushing is not always an option, an alternative solution is to rinse the aligners with warm water as soon as possible.

What are Invisalign aligners made of?

Your Invisalign aligners are fabricated from medical grade polyurethane resin containing methylene diphenyl diisocyanate and 1.6-hexanediol. This material is not only exceptionally strong and durable, but is also virtually invisible when worn. Invisalign does not contain any hazardous or harmful materials, such as phthalate plasticizers or Bisphenol-A (BPA), and is thus approved by the U.S. Food and Drug Administration (FDA) and United States Pharmacopeia (USP) for oral use.

Will I require a retainer after Invisalign treatment?

Yes. Once your teeth have shifted into the desired alignment, new bone is deposited around the teeth to keep them in place, a process that takes up to 12 months. To ensure that teeth do not fall out of alignment again, we recommend that patients wear a retainer between 12 and 22 hours a day for 3-6 months, depending on the extent of your initial problem. For the next 6 months, retainers should be worn nightly.

To avoid compromising the beautiful smile that you have worked so hard to achieve, retainers should then be worn 3-5 times a week for life.

What is the cost of Invisalign treatment in NYC?

The average cost for Invisalign in NYC and the surrounding areas is $3,200–$6,500. For comparison, traditional metal braces usually range from $2,500–$6,500 in Manhattan.

The exact cost of treatment depends on the extent of your orthodontic problems, your length of treatment, and the number of appointments you require throughout treatment, among other factors. Generally speaking, the cost of Invisalign on the UWS is comparable to that of traditional braces, which is fantastic when you consider the advantages of Invisalign.

It also serves to bear in mind that the outcomes of Invisalign treatment are priceless! Not only will you have a smile that you can be exceptionally proud of, but straight, symmetrical teeth and a healthy bite are essential for good oral health. Dr. Glassman will explain the cost of your Invisalign treatment to you in detail during your initial consultation.

Will dental insurance help cover the cost of treatment?

If you are interested in Invisalign treatment, you should first and foremost speak to your dental insurance provider. Many dental plans do provide coverage for Invisalign just as they would traditional braces, so it is definitely worth investigating. If you do not have coverage and could benefit from financial assistance, Glassman Dental Care offers flexible payment options through CareCredit, Lending Point, and Lending Club.

Can you negotiate the price of Invisalign?

If you have orthodontic insurance benefits, that will cover part of the fee. Most practices will then set up a monthly copayment through the office or through a third party company like Care Credit. For those without insurance, most offices will ask for a down payment and then set up a monthly payment arrangement or use a third party finance company. A third party is like setting up a lease payment as you would for a car.

What is the least expensive Invisalign price?

The typical price of Invisalign clear aligners is usually a bit higher than regular orthodontic braces. The average cost, according to the manufacturer, is between $3,600 and $6,500. Dr. Glassman can give you a better estimate of the price for your unique circumstances.

Can Invisalign ruin your teeth?

With over 8 million cases and 20 years of use, Invisalign has a track record of safety. While you're wearing your aligners, you should not eat and should only drink water. Any liquid containing sugar can seap underneath the aligners and cause cavities.

What's the cheapest way to straighten teeth?

Metal braces are typically less expensive than Invisalign for straightening teeth. The downside is that metal braces are more noticeable and can require a lot of care to keep clean. Many cases treated with traditional braces will actually take longer than Invisalign.

What's the difference between Invisalign and other aligner systems?

Invisalign has over 20 years of experience and over 8 million cases. They use a proprietary material called SmartTrack to more accurately position your teeth. They also have a unique software called ClinCheck that allows doctors to plan each patient's unique treatment.

Is there a way for me to see what my smile would look like before I commit to Invisalign?

You can go to an Invisalign provider who has an iTero Element digital scanner. A staff member will scan your teeth in less than 5 minutes and then use a feature called Outcome Simulator to let you see what your smile would look like after Invisalign treatment is complete.

What's important in finding an Invisalign doctor?

Experience is the most important factor in choosing an Invisalign doctor. The amount of Invisalign cases completed by the doctor is a good measuring tool. Both Orthodontists and General Dentists can provide Invisalign treatment. It's important to realize that this is a different technique than braces, so the question of whether or not to see a specialist is less important than seeing an experienced dentist who has done many cases with Invisalign.

How do I get started with an Invisalign treatment?

Simple! Just call our Manhattan dental office at 212-787-4860 and set up a consultation with Dr. Glassman. You'll get answers to any questions you may have and learn whether or not Invisalign is the right option for your smile. As one of only a handful of Invisalign Elite Providers in NYC, Dr. Glassman has years of experience creating beautiful, straight smiles using the Invisalign system.
---
To learn more Invisalign®, please click on any of the following links relating to Invisalign® clear aligners:
---
We look forward to seeing you smile!
---
---
If you're ready to talk to a dentist about Invisalign®, contact our UWS dental office today at 212-787-4860 to schedule an appointment.