Cosmetic Dentist Serving Lincoln Square, NYC
---
Glassman Dental Care is proud to provide top quality cosmetic dental services to patients in Lincoln Square, NYC, including Invisalign, dental implants, teeth whitening, and accelerated orthodontics. Our office is conveniently located on the Upper West Side, a short drive from Lincoln Square, NYC. 
Call us today to schedule your appointment!
---
Glassman Dental Care
ADDRESS
160 West End Ave., Ste. 1R
New York, NY 10023
---
Entrance on West 66th Street between Amsterdam and West End Avenues, located in Lincoln Towers residential complex.
---
Directions
HOURS
Monday | 9am - 7pm
Tuesday | 9am - 7pm
Wednesday | 8:30am - 5:30pm
Thursday | 8:30am - 5:30pm
Friday | 9am - 5pm
Saturday | Closed
Sunday | Closed

Schedule an Appointment
---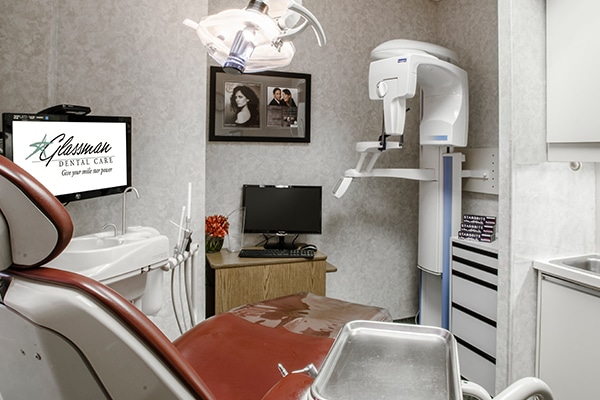 For those using Public Transportation:
---
Bus Lines: M5, M7, M66, M10
Subway: 1 train to 66th Street  Lincoln Center, 2 & 3 trains to 72nd Street
---
---
Frequently Asked Questions About Our Lincoln Square Dental Practice
---
What is a smile makeover?
Smile makeovers are our specialty at Glassman Dental Care! A smile makeover involves a comprehensive treatment plan that addresses all of the concerns you have about the appearance of your smile. For most patients, these makeovers include a combination of both restorative and cosmetic procedures. By taking a customized approach and using advanced smile design technology to plan your treatment, we'll give your smile star power!
What do dental implants cost in Lincoln Square?
The cost of dental implants in Lincoln Square, and NYC as a whole, depends upon the experience of the doctor you choose, the type of restoration you need, and whether any supplemental procedures like bone grafting are required. When you schedule a consultation with one of our doctors, we can determine the best dental implants for you and provide a price estimate.
What is the best cosmetic dentistry procedure?
We take an individualized approach to cosmetic dentistry, which means there is no one procedure that is best for everyone—everyone has their own unique needs and treatment goals.
How do celebrities get their teeth so white?
Our UWS cosmetic dental practice provides care for a number of celebrities and high-profile patients. Their secret to a star-powered smile is usually either professional teeth whitening treatments or porcelain veneers.
Can dental implants be done in a day?
Some types of dental implants can be done in a single day, but not all patients are candidates for these procedures. When you visit our office for a consultation, we will examine your teeth and gums, take x-rays, and go over your medical and dental histories to determine the best solution for your needs.
---
Walking Directions from Lincoln Square, NYC
---
Head southeast on W 65th St toward Amsterdam Ave
Turn left onto Amsterdam Ave
Turn left onto W 66th St
Glassman Dental Care will be on the right
Call us today at 212-787-4860 to schedule your appointment!